Health & fitness
Blazing a trail in technology and data advancements to revolutionize the world of health and fitness!







We can help you
with
EMR and EHR Software Solutions
At DashDevs, we provide secure and innovative Electronic Health Record (EHR) and Electronic Medical Record (EMR) solutions that integrate seamlessly with other clinical software. Our expert team is dedicated to improving your medical services and revenue streams while ensuring the safety and confidentiality of your patients' data.
Telemedicine App Development
DashDevs' team of professionals will conduct a thorough assessment of your organization's technological preparedness, scrutinizing essential telehealth aspects such as live video and chat, store and forward, remote patient monitoring (RPM), and mobile health.
Mobile Healthcare Applications
Ensure seamless patient care with custom mobile healthcare applications crafted by the exceptional team of IT experts at DashDevs, fully compliant with the highest standards. Our team is equipped to provide intuitive, secure, and feature-rich mobile apps for patients, doctors, and entire medical facilities.
Healthcare AI Software Solutions
Leverage the potential of AI and ML to revolutionize healthcare and patient care. DashDevs provides cutting-edge speech recognition and chatbot software, reliable text and medical image recognition solutions, and advanced healthcare analytics and augmented intelligence tools.
Mental Health Digital Solutions
DashDevs' Mental Health Digital Solutions offer a compassionate and effective approach to caring for mentally challenged patients. Our team is equipped to deliver mental health-specific EHR/EMR solutions, mobile apps for patients, and compliant services designed to enhance the quality of care.
Enterprise Software Systems in Healthcare
Optimize your healthcare operations with DashDevs' enterprise software systems. Our team delivers customized solutions that streamline EHR/ EMR systems, HIS/practice management software, hospital inventory management, and CPOE systems.
Legacy healthcare software re-engineering
Revitalize your outdated clinical and operational systems by modernizing, migrating, and maintaining your legacy healthcare software. Our team can help you transform your existing software into cutting-edge systems, ensuring compliance with the latest healthcare regulations.
Medical Billing Software
We offer assistance in implementing customized medical billing software solutions that can seamlessly integrate with your EHR systems. This allows for interoperability, enhanced security, and greater efficiency. We are committed to delivering tailor-made solutions that cater to your unique medical billing requirements.
Medical Image Analysis
We specialize in developing personalized medical image analysis software to cater to research and clinical requirements. Our software is designed to accommodate various medical image modalities, facilitating efficient early diagnosis, minimizing the risk of medical errors, and decreasing the need for excessive testing.
Custom healthcare software development
With our software development company, you can create custom web, mobile, and desktop solutions that automate crucial industry tasks. DashDevs' innovative technologies include patient portals, remote patient monitoring, telehealth software, virtual health applications, healthcare CRM, and more, tailored to your specific needs.
Third-party integrations
We provide scalable and secure healthcare software solutions that can integrate with your current infrastructure and third-party systems. Our solutions improve efficiency, reduce costs, and enhance patient care while adhering to the strictest security and privacy regulations such as HIPAA and GDPR.
Medication and Supply Management Solutions
DashDevs' medication and supply management solutions streamline medication dispensing and inventory management for healthcare providers. Our custom software uses real-time tracking and automated alerts to prevent errors, reduce waste, and ensure compliance.
Healthcare Data Analytics Software
Our software leverages advanced data analytics techniques to generate visual dashboards, predictive analytics, and reports. This enables healthcare providers to identify and manage potential risks, optimize patient care, and streamline operations for better outcomes.
Health Information Security and Compliance
With the healthcare industry's complex regulations, DashDevs can help simplify compliance through our health information security and compliance expertise. We offer thorough security audits, maintenance and training, and automated software audits using specialized testing tools.
Hospital Management Software
DashDevs provides advanced hospital management software to healthcare facilities, empowering them to manage operations while maintaining high patient care standards. We offer the development of hospital information software, real-time location systems, hospital CRM systems, and clinical decision support tools.
Our cases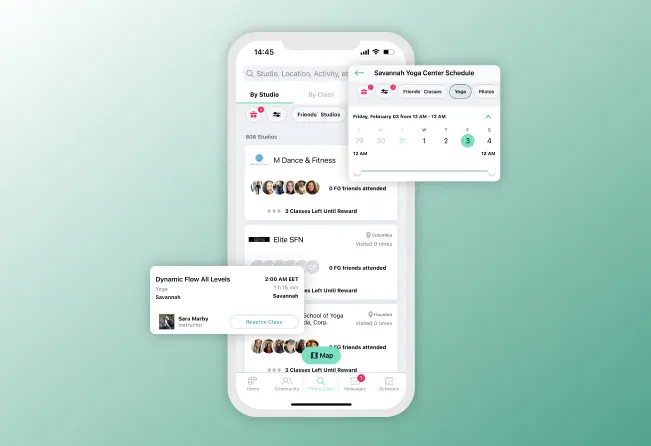 FitGrid is all-new fitness software that helps fitness studio owners
By connecting staff, instructors, and clients through a powerful learning and recommendation grid, FitGrid helps to leverage the power of community to drive the studio's profitability.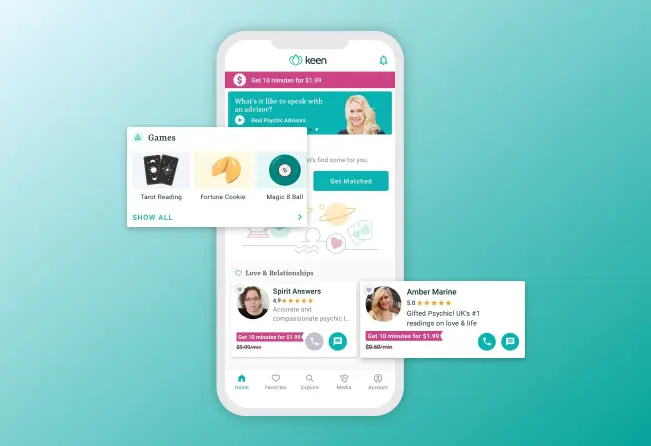 User-friendly and Responsive Life-Style Mobile App
Keen is a user-friendly and inclusive application aimed to help people make better everyday decisions. The app connects users with advisors for an established price via phone calls or other communication channels. Keen also allows viewing personalized horoscopes and other hobby-connected content for free.
How we differ
Deep market knowledge
We specialize in overcoming challenges in the health and fitness industry with tailored solutions. Our expertise provides effective and innovative strategies.
User-oriented
Our team at DashDevs is committed to designing user-centric applications that enhance the overall user experience of your health and fitness apps.
Clear reporting
Our reporting tools empower clients to track and assess project performance, monitor cooperative progress, make data-driven decisions, and drive sustainable growth.
Cost efficient
We are committed to maximizing cost efficiency by carefully selecting the necessary resources for each project. Our goal is to provide clients with solutions that are both effective and affordable.
Solutions at any scale
Our team has the capacity to deliver solutions of any size, from startups to established enterprises. With our expertise, we can provide flexible solutions that allow for growth.
Engagement models
Decide which model best suits your project
What kind of Healthcare software solutions do you provide?
The experts at DashDevs create personalized medical software such as electronic health records, practice management solutions, laboratory information management systems, telehealth technology, remote patient monitoring systems, PACS systems, DICOM solutions, and other similar applications.
Are you developing mobile healthcare applications?
Yes! Our healthcare mobile app development utilizes the latest technological advancements to provide medical professionals and patients with mobile healthcare solutions. With our app, your device can function as a complete medical tool that can analyze, monitor, and send your information directly to doctors or medical systems for further assessment.
What are the popular healthcare development trends in 2023?
These are the cutting-edge technologies that will be in high demand in 2023:
Advanced analytics, including predictive and big data analytics
The use of blockchain technology in healthcare
Utilization of Patient-Generated Health Data
Mobile health solutions
Virtual Care and Telemedicine software for remote medical assistance
The use of AR/VR technology for Medicare
The Internet of Medical Things (IoMT) allows connected medical devices to communicate with each other and with medical professionals.
Is it possible to provide personalized applications or software solutions that cater to the unique requirements of individual users?
Our team of professionals works closely with clients to identify their unique requirements and preferences and develop tailor-made applications and software that meet their specific needs.
Whether it's designing a mobile application that provides personalized workout and nutrition plans or developing a web-based platform that allows health professionals to manage patient records more efficiently, we are committed to providing solutions that are both innovative and user-friendly.
Our approach to software customization involves leveraging the latest technologies and best practices in software development while remaining focused on the needs of the end user. This ensures that our clients receive software solutions that are not only functional and reliable but also meet their individual preferences and workflows.
Do you support medical billing software implementation and integration?
Yes, we provide support for medical billing software implementation and integration. We analyze existing billing processes, offer customized solutions, and provide ongoing maintenance and technical support to ensure seamless integration and efficient operation of the software.