Media
Discover Our Software Solutions for Media Industry, Empowering You to Build Compelling User Experiences.





We can help you
with
Life streaming app
We specialize in high-quality video streaming solutions that enhance the user experience. DashDevs can create an engaging and interactive live streaming experience, complete with unique features to make your event stand out.
video on demand app
DashDevs develops custom OTT solutions for media companies, elevating engagement, expanding reach, and increasing revenue through personalized experiences, live streaming, and video analytics. Let us help you succeed in the OTT space.
Media Editors
Our advanced media editors with tailored features can help you modify and adjust digital media, such as images, videos, and audio. Strengthen your market position with tools that attract a wider audience.
Marketing Software Development Services
Our security software development team specializes in protecting your media and entertainment software from cyber threats. We provide end-to-end solutions, from risk assessment to implementation, to ensure that your software is secure at every stage of development.
Social Media Software Development
We specialize in developing innovative software that drives engagement, enhances the user experience, and grows your brand's presence online. Trust us to create cutting-edge social media solutions that meet your needs.
AI content filtering
DashDevs use advanced AI algorithms to create personalized media experiences. By analyzing user behavioral patterns, we can provide a unique and exciting experience for each visit, going beyond simple streaming.
Media & Entertainment Security Software Development
Protect your media assets with our cutting-edge security solutions. Our team of experts develops custom software to safeguard your content and user data, keeping your brand safe from cyber threats.
Media & Entertainment Cloudification
DashDevs' cloudification solutions transform media operations, offering increased efficiency, flexibility, and scalability. Migrate to the cloud for remote access, storage, and management of media assets.
Digital Asset Management Solutions
Secure and manage your digital assets with our advanced digital asset management solutions. DashDevs provides custom software development services to help media and entertainment companies streamline their workflows and increase efficiency.
Custom Media & Entertainment Software Development
With deep technical expertise, DashDevs provides custom software development for media and entertainment businesses, providing tailored solutions to help take your business to the next level.
Support
We provide support throughout the entire project lifecycle, so you can rest assured that we'll be there for you whenever you need us. Whether you need technical support or advice on optimizing your system, our team of knowledgeable professionals is always ready to help.
Our cases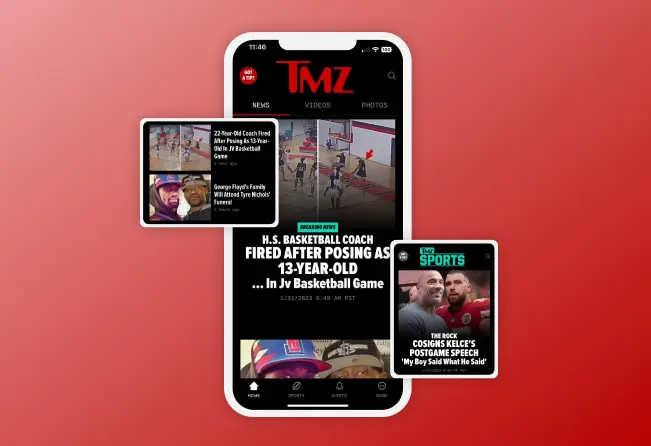 one of the leading news websites in the US
The TMZ is of one of the leading news websites. TMZ App allows to stay current on the twenty-four-seven exclusives, breaking celebrity stories, sports news and hottest videos. Additionally, we've made it possible for users to watch 'TMZ Live,' 'TMZ Sports on FS1' clips, and 'TMZ on TV' without leaving the TMZ mobile app.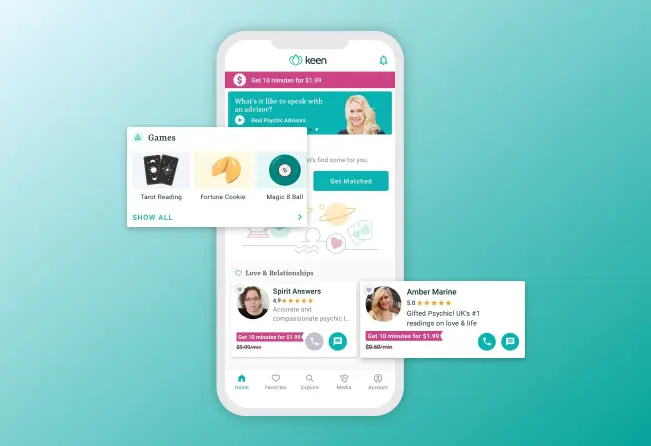 User-friendly and Responsive Life-Style Mobile App
Keen is a user-friendly and inclusive application aimed to help people make better everyday decisions. The app connects users with advisors for an established price via phone calls or other communication channels. Keen also allows viewing personalized horoscopes and other hobby-connected content for free.
How we differ
Deep market knowledge
Our team has a deep understanding of the media industry, ensuring solutions are aligned with market trends and consumer behavior.
User-oriented
With a focus on user experience, DashDevs develops tailored solutions to keep your audience engaged and satisfied.
Clear reporting
Clear reporting is our priority. Stay informed about the progress and results of our work every step of the way.
Cost efficient
Expertly balancing quality and cost, our team provides affordable solutions without compromising on excellence.
Solutions at any scale
DashDevs scales with your business, providing tailored solutions that meet your evolving needs. Trust us to support your growth, no matter the project size.
Engagement models
Decide which model best suits your project
How Long Does it Typically Take to Develop a Media App?
The development timeline of a media app can vary depending on the complexity of the project, desired features, and technical requirements. Our team of experts follows a systematic approach to ensure that the development process is efficient and timely. We work closely with our clients to establish clear project milestones and provide regular updates throughout the development process. Typically, a media app can take anywhere from several months to a year or more to develop.
Can you Integrate Third-Party APIs and Services Into our Media App?
Absolutely! We can integrate third-party APIs and services into your media app. Our team of experts has experience integrating various APIs and services, such as payment gateways, social media platforms, analytics tools, and more. By integrating third-party services, we can help enhance the functionality and features of your media app while also improving the user experience.
How Do You Ensure the Security of Media Apps you Develop?
Ensuring the security of media apps is one of our top priorities. We implement various security measures throughout the development process, such as encryption and authentication protocols, to protect user data from unauthorized access or breaches. We also conduct regular security audits and tests to identify and address any potential vulnerabilities. We follow industry best practices and comply with relevant security standards and regulations. Our experienced developers are well-equipped to handle various security challenges and provide customized solutions to meet your specific security needs.