Travel & Hospitality
Elevate your business to new heights by harnessing the power of cutting-edge digital technology solutions.





We can help you
with
Booking & Reservation Systems
We can empower your customers to effortlessly book their travel arrangements, including tickets, accommodations, and itinerary planning. Deliver an unparalleled user experience by providing personalized recommendations, upselling options, and cross-selling opportunities to enhance their travel journey.
Travel Management Solutions
DashDevs travel management solutions are tailored to meet the unique needs of your business. We can provide you with a one-stop-shop for all travel-related services and simplify the intricacies of travel planning and management, facilitating transparent travel monitoring and proactive disruption management.
Transport apps
With DashDevs you can develop powerful and scalable transportation applications with user-friendly interfaces and interactive maps that allow users to reach their destinations quickly and easily. Our transportation solutions include apps of any type, from booking taxis and transfers to route planning software.
Tourism portals
Partner with us to enhance your tourism business operations with the cutting-edge tourism portal solutions. With DashDevs's advanced recommendation algorithms, personalized offers, and cross-selling options, customers can enjoy a tailored experience that brings together travel enthusiasits and meets their unique preferences and needs.
Travel business management
Our team of professionals will craft bespoke software solutions that simplify the management of various travel business operations. Tailored CRM and ERP systems, along with advanced travel distribution, and robotic process automation, will be designed to enhance the efficiency and effectiveness of your travel business operations.
Ticket booking and management systems
Ticket booking and management can be a time-consuming and complex process. That's why we offer innovative ticket booking and management systems with personalized offers, cross-selling options, and real-time notifications. Our systems are designed with advanced security features to protect customer data and ensure safe and secure transactions.
payment system integration
Our payment management solutions provide full transparency into all payment activities, enabling real-time monitoring of transactions, refunds, and chargebacks. DashDevs services are designed to seamlessly integrate with your existing booking services and travel applications, providing customers with a range of secure and convenient payment options.
Our cases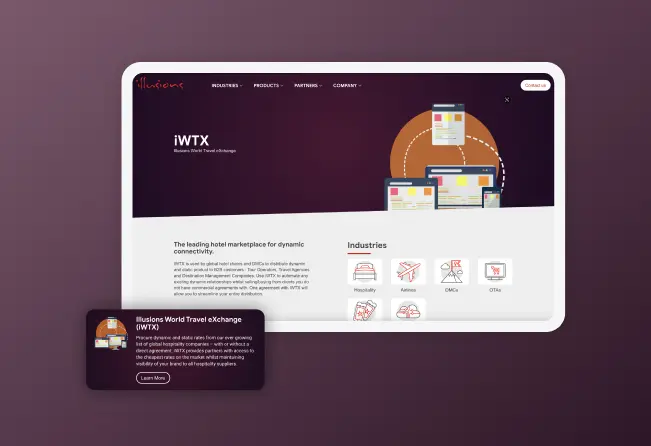 Illusions World Travel eXchange (iWTX) is leading hospitality marketplace
iWTX is hospitality marketplace used by global hotel chains and DMCs. It helps to connect and distribute product to B2B customers - Tour Operators, Travel Agencies and Destination Management Companies.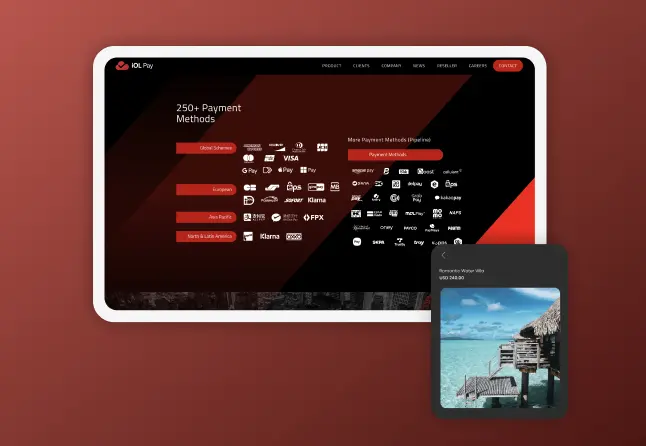 iOL Pay is Global hospitality payment solution supporting 250+ payment methods
Global payment acceptance solutions for the hospitality industry. Supporting 26 languages, 140 presentment currencies and 250 payment methods ensuring customer has choices to seamlessly and efficiently complete a transaction.
How we differ
Deep market knowledge
Our expertise helps clients overcome travel industry challenges. We understand all the complexities and provide effective and innovative tailored solutions.
User-oriented
DashDevs team is dedicated to creating intuitive,easy-to-use applications that enhance the travel experience for all users.
Clear reporting
We provide our clients with reporting tools that allow them to monitor and evaluate project performance. This helps monitor cooperative progress, make informed decisions, and drive growth.
Cost efficient
We are dedicated to optimizing resources and inviting just the right number of experts to each project to ensure that clients receive cost-effective solutions without compromising quality.
Solutions at any scale
Whether you're a startup or an established enterprise, our team has the expertise and resources to deliver solutions at any scale. We provide you with the flexibility to grow.
Engagement models
Decide which model best suits your project
What types of travel industry solutions are there?
We can supply you with all forms of travel industry solutions, including travel booking and management systems, travel distribution networks, transportation apps, staff management software, and robotic process automation. These solutions can assist travel agencies, transportation firms, and other organizations in streamlining their operations, improving client satisfaction, and maximizing profits.
How can your software solutions benefit travel businesses?
DashDev's software solutions may assist firms in streamlining operations, automating procedures, and reducing human labor. We provide you with a group of experts that can help businesses stay competitive by delivering innovative and user-friendly services that fit the evolving demands of passengers.
Furthermore, our solutions may provide deeper insights into client behavior and preferences, allowing businesses to provide customized services and increase customer happiness. Finally, they can promote communication and collaboration across departments and stakeholders, resulting in improved decision-making and more efficient problem-solving.
How are your custom solutions tailored to the unique needs of a travel business?
DashDevs has a thorough grasp of the global market and the problems that firms confront. We collaborate extensively with each customer to discover particular pain points and design specific solutions that answer your company's specific demands. We are able to deliver creative software solutions that can overcome any issues experienced by travel organizations due to our knowledge and experience.
How can your solutions scale with a growing travel business?
Our solutions are built to be scalable and expand with your company. As your company grows, our team can provide more resources and support to guarantee that our solutions continue to fulfill your requirements. Travel portals, ticket booking and administration systems, financial advice, payment system integration, and transportation applications are all examples of this. We have extensive experience working with growing businesses and can advise you on how to efficiently scale your IT solutions.
What type of support and maintenance do you offer for your travel industry solutions?
With our travel industry solutions, we provide complete support and maintenance, including frequent software upgrades and bug fixes to ensure seamless functioning, as well as consultations and regular project reporting. Our team is available to assist with any concerns or queries that may occur throughout the agreed-upon working hours. In addition, we provide continuous consulting and maintenance after product launch to guarantee that our solutions continue to match your company's evolving demands.